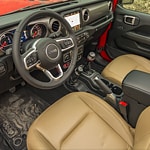 The Jeep Wrangler is a convertible SUV. It is ideal for cruising down the road on a nice day. You will be able to soak up the sun and let the fresh air in. You will also be able to look at the stars at night.
This vehicle comes with a removable rear window. You will be able to let the cool air in as you drive down the road. The rear window can be taken out in just a few easy steps. It has latches on the inside that have to be loosened. The window is taken out from the outside.
The Jeep Wrangler also comes with a sky-touch power top. It is easy for you to operate the power top. All it takes is the push of a button. If you want to test drive the Jeep Wrangler, then you should make arrangements to come to our dealership.