2021 Jeep Gladiator in Oshawa, Ontario

2021 Jeep Gladiator in Oshawa, Ontario
Jeep has always dominated the motor industry with some of the best off-road vehicles. However, they have held off the production of models with a cargo bed for a long time. These trends are set to change with the introduction of the 2021 Jeep Gladiator. The mid-sized pickup truck is not only about beauty; it also delivers an impressive performance towing a maximum of 7,760 pounds compared to the SUV model that can haul a maximum of 3,500 pounds. The 2021 Gladiator boasts a powerful V6 engine with a standard stick-shift transmission generating a torque of 442 lb-ft. The Gladiator delivers an impressive fuel economy with a standard manual transmission, achieving 17 km/ Litre in the city and 24 km/ Litre on the highway.
What's new for the 2021 Gladiator?
Jeep is working towards a seven-slot grilled Gladiator diesel engine option. The 3.0-litre V6 engine is set to deliver up to 260-horsepower and an impressive torque of 442lb-ft. Jeep customers are definitely in for a treat with the release of this slightly more versatile model than the Wrangler.
Towing and Payload Capacity
The 2021 model has received numerous recognitions for its strong towing and payload capacity. With proper adjustment, this pickup can tow a maximum of 7650 pounds. All versions of the Gladiator come designed to perform outstandingly when it comes to towing. The weakest performance is being able to haul a 4,000-pound trailer. Compared to the Jeep Wranglers, the Gladiator tops the charts, overshadowing the Wrangler's 3,500-pound towing capacity. The Gladiator's cargo bed is also capable of holding up to 17,000 pounds of payload.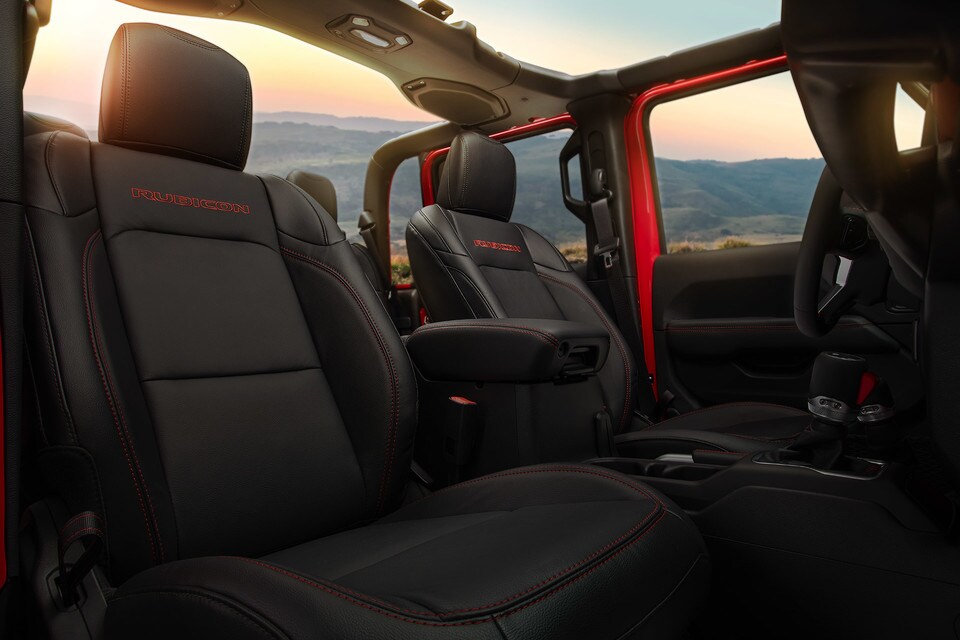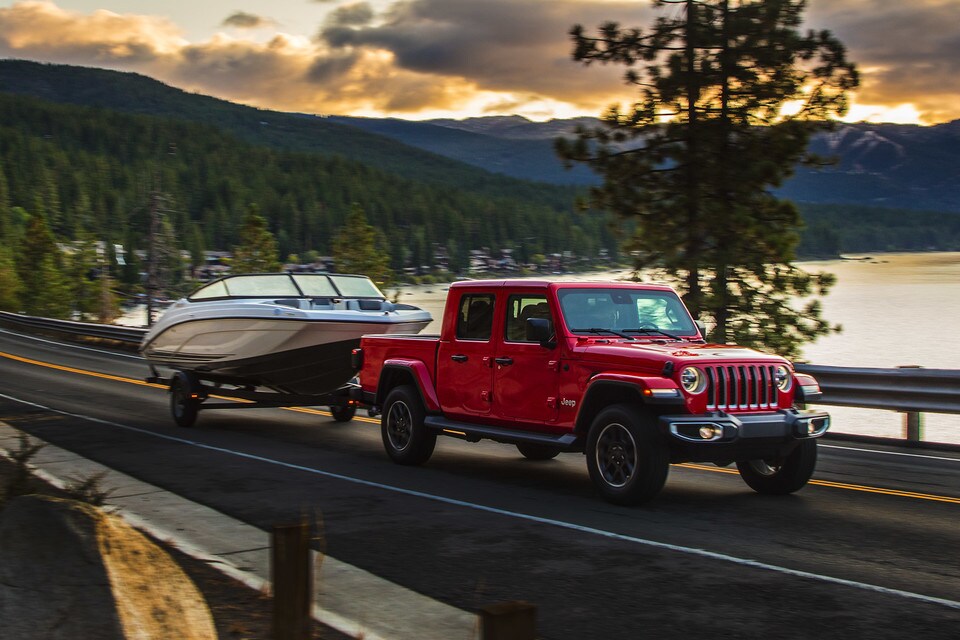 Interior, Comfort and Cargo
The Gladiator's interior, with its dashboard, resembles the one on the Wrangler and is fitted with various easy-to-use controls. The 2021 model also offers durable features such as a waterproof push-button start, heated steering wheel and heated front seats. To boost comfort, the automakers stretched the wheelbase to provide enough legroom for backseat passengers. You can also remove the roof and body panels to create an open-air cabin. On top of the five-foot cargo bed, the Gladiator boasts enough interior storage options with several spots where you can store your smart devices. The backseats also feature a hidden compartment that can come in handy when stashing personal items. The seats can be held in various ways and locked into place when traversing rugged terrains.
Infotainment and Connectivity
The Gladiator does not disappoint when it comes to tech. All models come fitted with a standard touchscreen. However, you may need to upgrade to higher trim levels to access the 7.0'' and the 8.4'' displays equipped with Android Auto and Apple CarPlay. You can upgrade your sound system with an optional subwoofer supported by portable wireless speakers fitted behind the rear seats. Front seat passengers can also enjoy the convenience of two USB ports, a 115-volt outlet and a USB-C port.
Safety and Driver-Assistance Features
The Gladiator is yet to undergo various safety tests from the National Highway Traffic Safety Administration and the Insurance Institute for Highway Safety. However, Jeep did not leave anything to chance, fitting the model with several driver assistance features. One of the most notable features is the front camera fitted to the Rubicon model. This camera comes in handy when driving on treacherous trains or off-roading a rocky terrain. Other impressive features include adaptive cruise control with a forward-collision warning system, blind-spot monitoring with rear cross-traffic alert and rear parking sensors.
Contact Us
Here at Fraser Chrysler, we offer a wide range of Jeep models to choose from, depending on your needs. Our new inventory features some of the latest Jeep Models with multiple trim levels, including the Gladiator. For the best deal on financing, contact us at Fraser Chrysler.
2021 Jeep Gladiator Inventory in Oshawa, Ontario